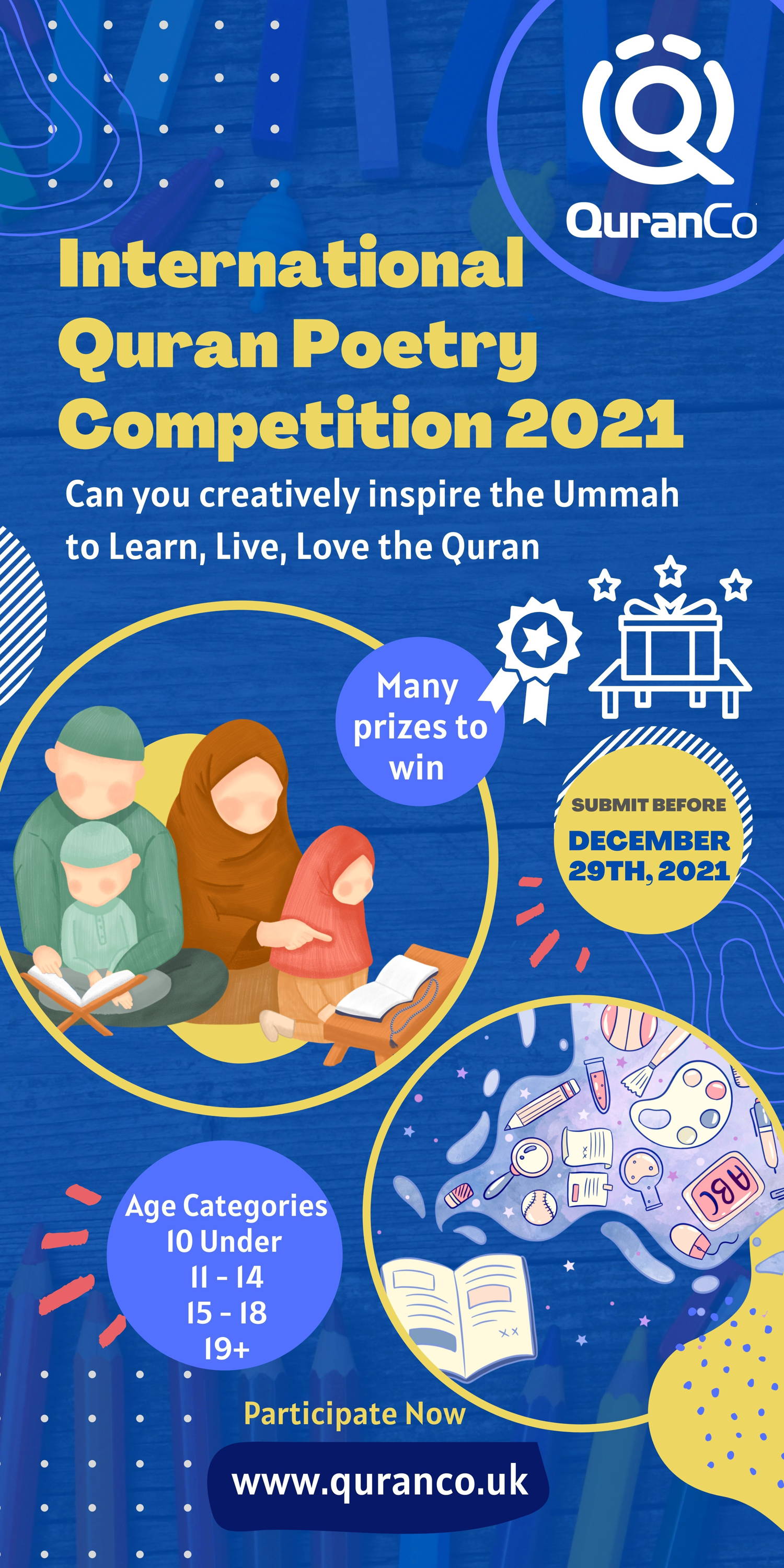 Join our journey in this blessed opportunity for children & adults around the world to showcase their creative writing skills in this Quran poetry competition. Our aim through this competition is motivate the global community to connect with the Quran, encourage reflection on Quranic verses and values to inspire personal development and nurture confident writers.
Allah sent down the Quran as a guide and mercy for Mankind. It is full of inspiring stories, miracles and life lessons. It is the greatest gift and blessing. For this competition, you need to write a poem about the Quran.
Poetry can facilitate both the reflective process and the expression of Quranic ideals in beautiful and empowering ways. Moreover, we want to nurture our aspiring authors, instill confidence and passion for the future voices of the ummah.
We at Quran Co believe that there is a vast amount of creative potential within the community; we pray that a poetry competition will nurture and direct creative talent to promote the light and beauty of the Quranic message and help fulfill our vision is to "Inspire the Ummah to Learn, Live, Love the Quran"
Deadline for submission is Wednesday 29th December 2021 10:00 PM BST.
Be sure to follow @quranmoonlamp for updates.
For any queries, questions, or issues with submission please send us an email on info@quranco.uk
To enter the competition, please complete the form below and upload your entry. You can also email us your entry but will need to provide the details below.
"So remember Me; I will remember you. And be grateful to Me and do not deny Me."
- Surah Baqarah Verse 152 -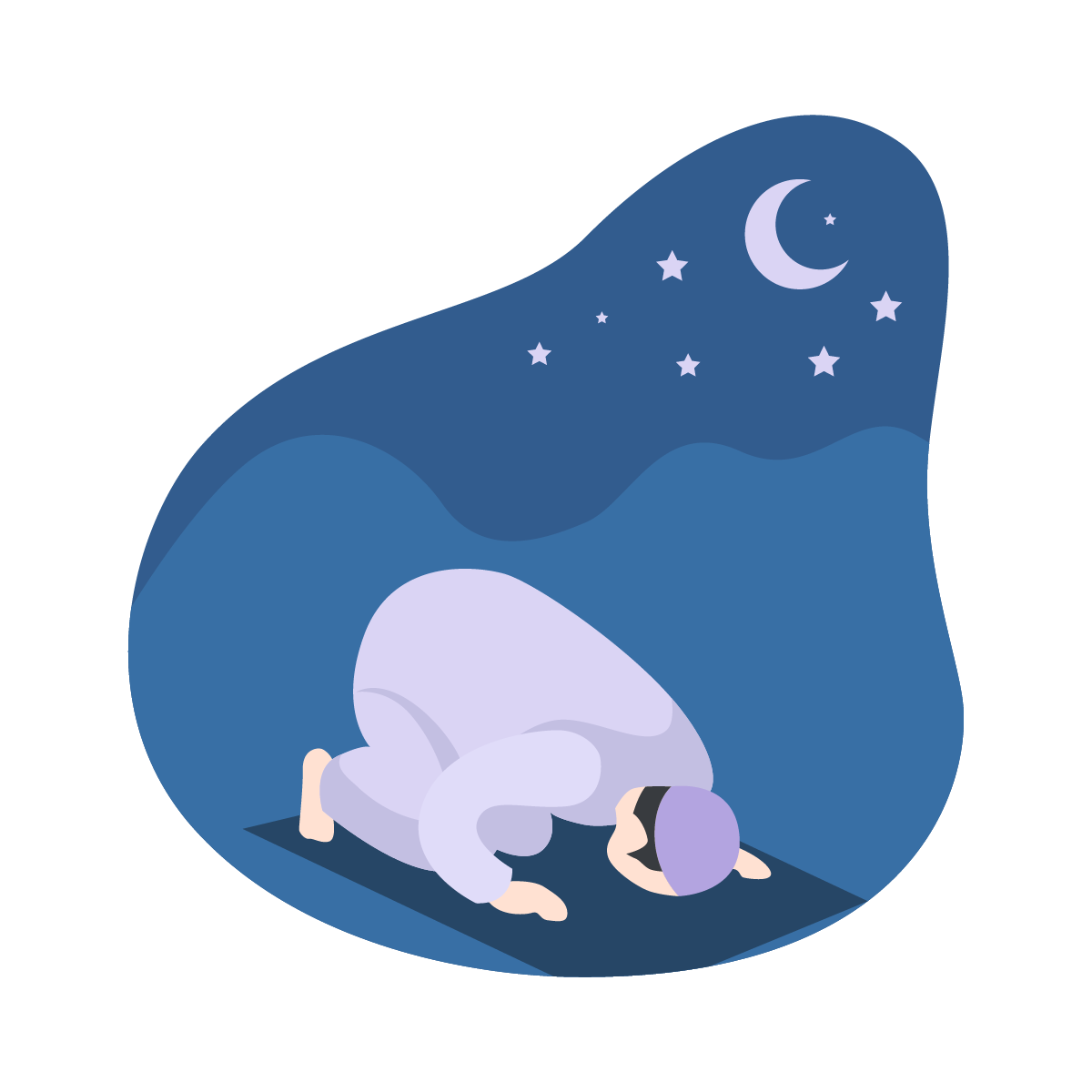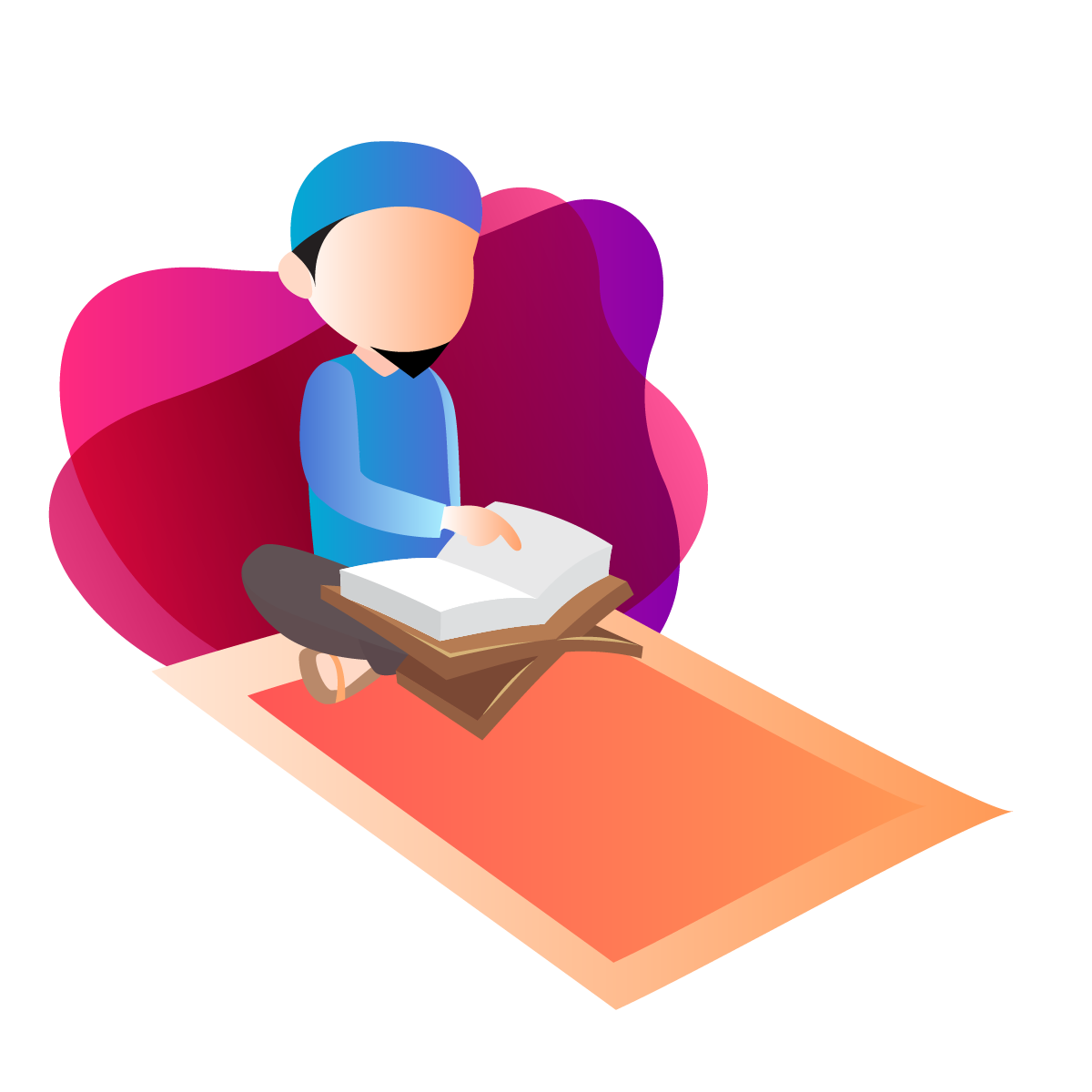 By participating in this competition you agree to abide by the Terms & Conditions as set out below;
Contents
Entry requirements
Submission
Judging
Key Dates
Prizes
Conditions of use
General
1. Entry requirements
We are looking for poems that help the Ummah "Learn, Live and Love" the Quran.
The poem must be written in English.
The poem must be original and written by the entrant without help from others.
Quran Co reserves the right to exclude any poem(s) that they believe is not the work of the entrant.
Poems that have won a prize(s) in previous competitions, or featured in a regional or national campaign, are not allowed.
All entries must be the work of the individual submitting them, and must not infringe the rights of third parties including copyright, trade mark, trade secrets, privacy, publicity, personal or proprietary rights.
Poems should be no longer than 200 words and fit into single A4 page.
2. Submission
Only single entries per participant.
Entries must be labelled with the name and age (or age category) of the author.
Entries must be made via the above google form.
There is no entry fee and no purchase necessary to enter the draw selection.
The competition is open from 13:00pm on 04/11/2021 until 22.00 on 29/12/2021
The entry process will remain open for two (2) hours after this time to allow for transmission of entries made close to the deadline.
Any incomplete or late entry will be deemed ineligible.
Quran Co's decision in respect of all matters to do with the competition will be final and no correspondence will be entered into.
Judging
The poems will be judged in categories defined by the age of the entrants. The age categories are:

Aged 10 and under
Aged 11 to 14
Aged 15 to 18
Aged 19+

There will be an independent judging panel.
The judges will select first, second, third prize winners and 2 runners up for each age category.
Poems will be judged on:

Depth, clarity and creativity of thoughts and ideas linking to the core theme 'To Inspire the Ummah to Learn, Live, Love the Quran'
Use of poetic devices (eg. imagery, personification, metaphor, assonance, euphony, rhyme)

The use of poetic devices will be reflected in the way the sound, meaning, imagery and arrangement of the words comes through in the poem. Please note that the poems will not be judged according to the number of poetic devices used, but rather how the devices are used to convey the meaning and message of the poem in an effective and inspiring way linking to the core theme.

You can use images, pictures, colour to complement your poem entry, however this will not be judged and affect scoring.
The judges will mark each poem according to the above criteria. Decisions made by the judges in determining the winning entries will be final.
We are unable to enter into correspondence with unsuccessful entrants
4. Key Dates
Below are the key dates in

Competition is open from 10:00 on 04/11/2021 until 22.00 on 29/12/2021
Judging will take place from 03/01/2021 - 15/01/2022 where the 12 finalists will be selected.
Winners will be announced on QuranMoonLamp's social media channels during the week beginning Mon 17th January 2022
Prizes will be dispatched by 31/01/2022 and may take a few weeks to arrive depending on location of winning participants.
5. Prizes
The prizes from each category will be from among the exciting product range from QuranCo.uk
Each age category winners and runners up work will have their work featured in an Quran Poem Anthology Ebook by QuranCo.
No cash alternative to the prize will be offered. The prizes are not transferable. Prizes are subject to availability and we reserve the right to substitute any prize with another of equivalent value without giving notice.
If the winner cannot be contacted or does not claim the prize with 7 days of being contacted, we reserve the right to withdraw the prize from the winner and pick a replacement winner.
Quran Co is not responsible for inaccurate prize details supplied to any entrant by any third party promotional partners connected with this competition.
6. Conditions of Use
The winner agrees to the use of his/her name, image and/or poem in any publicity material. Any personal data relating to the winner or any other entrants will be used solely in accordance with current UK Data Protection legislation and will not be disclosed to a third party without the entrant's prior consent.
Entrants retain full copyright over their poetry. However, by submitting poems to the competition, you are agreeing to grant Amin & Yasmin Ltd trading as QuranCo, a perpetual royalty-free license to use those poems in any of their commercial publications, blogs on the website and/or any promotional material and social media. Where appropriate, reasonable efforts will be made to credit the writer of the poem, though this may not always be possible.
The winners may be required to take part in publicity and provide PR quotes for local, national and/or international media.
7. General
By entering this competition, an entrant is indicating his/her agreement to be bound by these terms and conditions.
Entry into the prize draw will be deemed as acceptance of these terms and conditions.
The prize draw and these terms and conditions will be governed by English law and any disputes will be subject to the exclusive jurisdiction of the courts of England.
Quran Co reserves the right to cancel or amend the prize draw and these terms and conditions without notice in the event of a catastrophe, war, civil or military disturbance, act of God or any actual or anticipated breach of any applicable law or regulation or any other event outside of Quran Co's control.
Any changes to the prize draw will be notified to entrants as soon as possible by Quran Co.